We love to be entertained and are now programmed to want everything on demand. If we watch TV, we are watching Netflix so we aren't interrupted by ads. (Of course, this is only so we can swipe through Instagram at the same time haha)
It's well known that attention spans are shrinking rapidly, which can make our job as trade show marketers a little more difficult. When it comes to exhibition stand design simply building the biggest display possible and sticking the company logo on it is no longer enough (and shame on any exhibition design company that ever thought it was!).
What we have to do is go back to basics and make sure that we are presenting information in its simplest form so that it is easily digested by the passing customer.
This is where video can become your ultimate tool for attracting attendees to your trade show stand. There are a few prerequisites to ensure it doesn't fall into the brain dead advert category.
Making a great exhibition video
1/ Don't use a video that needs sound!
What!? I hear you say, a video with no sound? Yep, think about how loud exhibitions can be and how many sales people are already trying to have conversations. If you're relying on sound to get across your messaging, you'll quickly realise that it gets very little impact, if at all.
Instead focus on great graphics and clear typography to get your message across. Don't have a product that is easily shown off visually, then think about using motion graphics or an animated sequence to get your message across.
2/ Watch out for the narrative
On normal video production there needs to be a clear narrative (a beginning, middle and end). However, with an exhibition video you have no control at which point someone may come into contact with your video.
A visitor needs to be able to get some value from your video at whatever point they start watching. Digital content needs to be short, or a collection of short impactful clips. The delivery is packaged in segments so that you're not totally lost if you join part way through and the best videos share benefits or points of differences so they act as the additional salesperson on the stand.
3/ It has to portray a key marketing message
At its core no one watches ads on their TV's at home.  Trust me, they won't watch them at a trade show either.
I cringe every time I see someone put content up that just doesn't resonate with anyone. It can be top notch quality that some head office overseas created, but it doesn't matter an insty-bitsy-bit (technical term) if it doesn't portray a key message.
I love that many people choose not to rely solely on static imagery, but you may as well save your money if it's not really adding value.  
4/ Create an incentive
You could just loop your video at the end, but something that works quite well is including an incentive or a call to action. For instance "come and speak to one of the team on the stand to XYZ" or even – "enter your details for a free month trial / get 20% off your first order / enter into a prize draw / etc" – this gets you contact details which then gets you a pipeline to attack.
5/ Make it work harder
Use it in your pre-show marketing or snippets in your social media campaign. Even though you may not have sound on at the exhibition adding a voiceover or subtitles can add to the longevity of your video. It can be sent to clients pre-show to create a buzz, put up on your website or social media.
After the show you can send as a link in a follow up email. Any touch points after the show really help connecting the experience of the event to your product or service after they have returned to work or their daily lives. It helps continue the conversation.
6/ Be careful with your choice of hardware
LED's are great, but can be exxy. They have a certain bling factor to them but you must note that you choose your hardware based on what you're hoping to achieve. EG, if the LED's are spaced too far apart it makes text difficult to read up close.
Consider how often you would use the screens and weigh up the cost to hire versus purchase. Hiring is expensive, but it also comes with tech support so worth considering if you are doing something a little more complicated.
Benefits of video
1/ Makes you stand out from the crowd
While most stands have pop up banners, free pens and flyers, a moving images draw in the eye so it increases the chance of your sales team striking up conversation with attendees.  
Albert Mehrabian, an expert in nonverbal communications, has demonstrated that over 93% of communication is nonverbal. The human brain responds more powerfully to images and videos than it does to text, making full motion displays a huge opportunity for your business to attract attention.*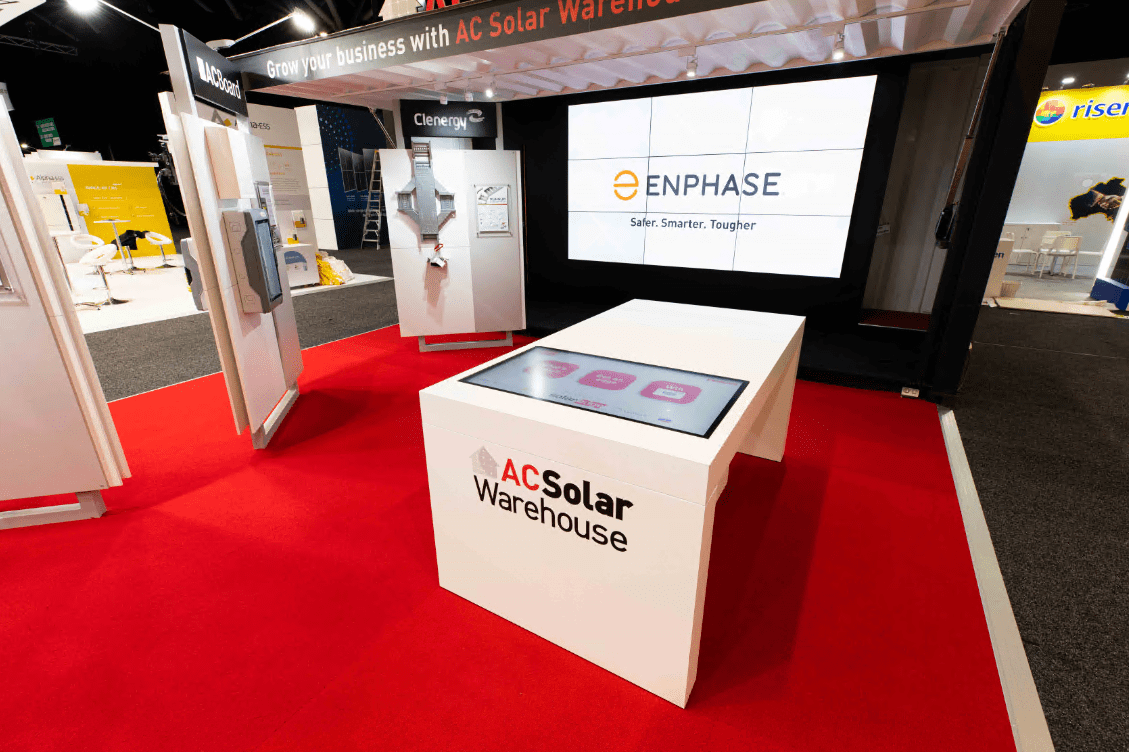 2/ Assist the sales team
The video content should translate into a benefit that attendees can experience/get from your product/service. This should be made clear and easily understandable so that the content displayed actually assists your sales team and even warms leads up.
Be warned though trying to make overcomplicated videos can backfire and leave your audience confused and put off. Stick to simple videos that draw passers-by in.
3/ Video can explain a product or service that may not be possible face to face
Whether it be large items you can't physically bring to the show. Or small items that are difficult to view. It's a great way to share case studies, testimonials or visually share your sales process if it's of value to your customer.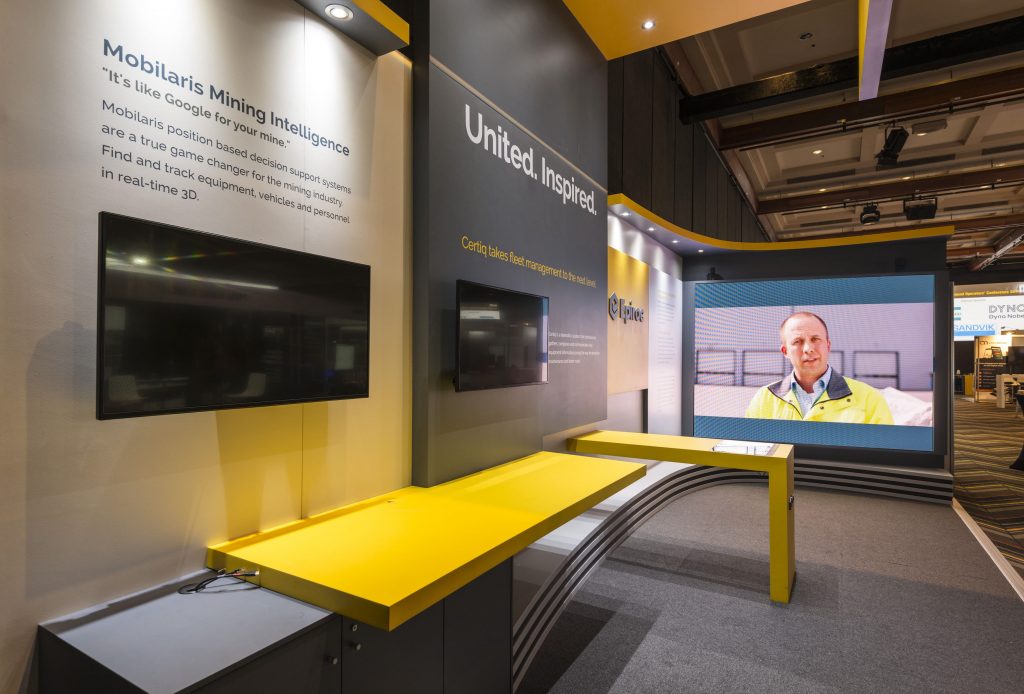 Here's what we did recently for Epiroc at a mining show. The staff had access to 16 videos they could use as talking points with visitors.
By "swiping" the touch screen built into the bench they sent it onto the BIG video wall. The benefit was that the sales team could do informal demo's and visitors really enjoyed watching the technology being used (some even asking to try it themselves).
4/ Video lets people see your product/s in a real world environment, or explain how it's built or used.
5/ Video can bring even the smallest stand alive
6/ Video can keep people on your stand for longer
And in turn can reduce lost opportunities if your sales team are busy with other visitors
My view on digital content is that it either needs to be BIG or at least a bit interesting… A standard monitor is a little "me too" and unless your staff will talk to it to get points across I wouldn't bother.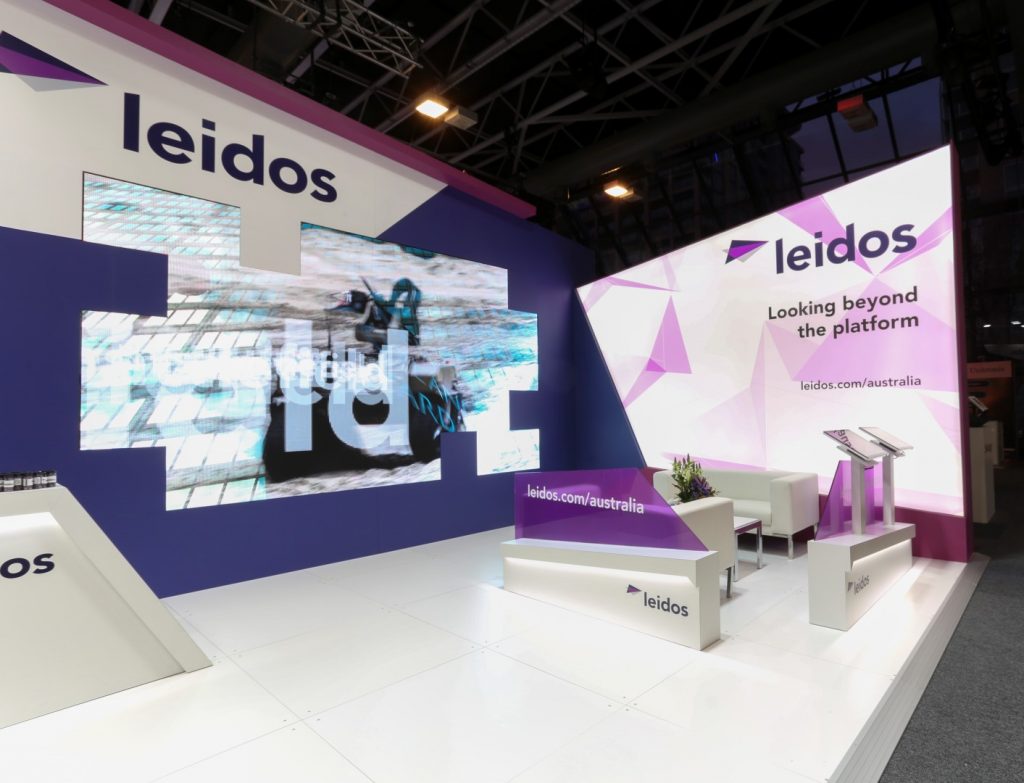 In this stand that we created for our client, Leidos, the large video wall is impactful in itself, but we cut out parts to create visual interest and hold the attention of visitors. It gave the staff an opportunity to speak to visitors as they admired it.
If you would like advice on implementing video content into your next stand, leave your details and we'll be in touch.
If you are considering including an interactive at your next show, download our free checklist to guarantee you choose something that is engaging AND effective.
Yours in Exhibiting,
Jess