I was definitely at kid who colour coordinated my to do lists with highlighters, but I've never been a math genius. The really cool part about developing a robust set of KPI's is it forces you to clearly define who you want to target and therefore how you are going to do it. (You know how much I LOVE planning ????).
One of my pet peeves is hearing someone had a great show, even the "busiest stand" and then finding out that they were the wrong kinds of leads that didn't convert. It's a waste of money and effort.
To me, the numbers are motivators, decision makers and celebrations of your success. They can build confidence and act as truth bombs for making sales and marketing decisions. They can also be fortune tellers, predicting outcomes before they happen.
To say they are important is an understatement.
Working out trade show ROI is a bit of a beast. You aren't alone if this is something you struggle with! But before you can even contemplate working out your ROI, you need some numbers to work with and they need to be set before the show even starts.
So… what exactly should you track?
That's the thing about Key Performance Indicators (KPI's) is that they are unique to you and your goal.
Are you looking to close sales, launch a new product, generate leads? Whatever your goal is, your KPI's should align with these.
You can track leads, orders, conversations, number of demos, interactions or brochures handed out (Digitally of course!). And that is just skimming the surface, but you need to make it clearly measurable.
For example, you might be looking to sign up new partnerships and only be hoping to speak to certain decision makers. Your KPI might be to "meet with 6 C-Level executives over the 2 day event".
Having clarity around this goal instantly puts your brain into gear. You're already thinking about what actions you need to take to meet that KPI. See how powerful it is? That is why you need to do it well before the event so you maximise the time you have to pull together your epic strategy!
As a gift to you I'm sharing our Super Useful KPI + Data Collection Checklist… It's definitely a "pick your own adventure" kind of exercise but you won't miss a beat if you follow the steps.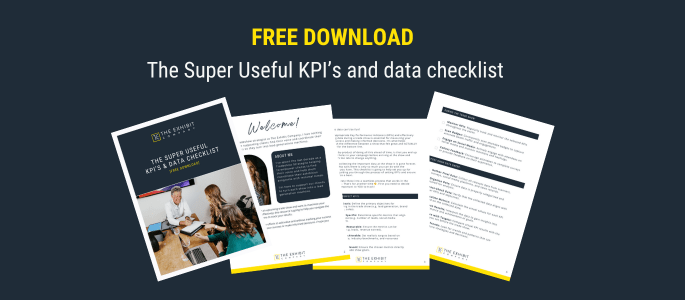 After setting your KPI's the second most important part is tracking them! How you collect your data is a make or break topic. If you make it too hard, none of your team will do it. If you are trying to track too many things or the method for collecting the data doesn't work when you are fiercely working the trade show floor, you need to re-think your tools.
Lead scanning app's available from most organisers are great, but I'm a fan of editing the template if you can so it suits exactly what you are after. I'm also a big believer in having multiple ways leads can enter your funnel.
Touch screens, scanners, QR codes… You want to make it easy for your team and the attendee but also for the information to be seamlessly collected in the background wherever possible. It's also incredibly important to remember what you spoke about with each person.
Technology is the secret to this so if you are thinking about sticking a fish bowl for business cards on your reception counter, I beg you to call me immediately for help. Start dialling ????
In the checklist you'll see a section on post show surveys. This is something I learned from the USA. It isn't seen much over here.
Our audience are time poor and don't spend as much time at the show so they aren't likely to complete an exit survey when they visit your stand, but it's worth while weaving it into conversations with customers you have a good relationship with and hearing feedback from their perspective.
Ask them about their experience with staff, the stand design and overall impression. Obviously preface with wanting unfiltered feedback so they don't just say what they think you want to hear.
The best part about tracking your trade show KPI's is seeing what happens over time. This is where the magic happens – You will gain some incredible insights on where your business comes from, the lifecycle of a lead, which shows are working better for you, which staff are great on the stand and so much more!
Tracking your numbers is the start of a solving challenges and celebrating victories. If you aren't doing it or want to improve on your current plan, download our checklist and give it a go.
If you go through the exercises I'd love to hear how it impacted your planning and trade show experience. Seriously, it makes my day hearing from you guys!
Yours in Exhibiting,
Jess