NOT SURE HOW TO TURN YOUR EXHIBIT PROGRAM AROUND?
Why are some exhibitors having brilliant trade shows, writing lots of business and generating leads while others are saying things like:
"I don't get ROI"
"I don't get the right kind of people coming to my stand"
"Trade shows are just too expensive"
EXHIBITIONS WORK
The statistics around the effectiveness basically have not changed in decades. They have literally moved a percentage point up and down but overall they have stayed the same. 50% of visitors will buy something they see at a show within 6mths*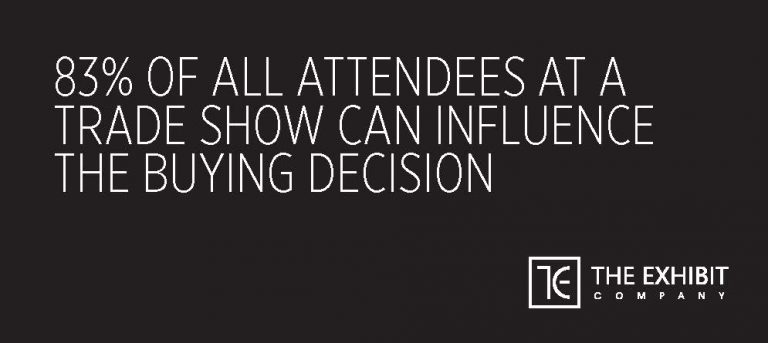 Some people disagree. They feel they've given it a fair go and despite their efforts, it didn't give them the return they need to make it worth their while.
---
SO, WHAT'S CHANGED?
IT'S THE AUDIENCE NOT THE EXHIBITION

The crux of the problem is the increase in noise. Our subconscious blocks out unwanted noise to prevent overwhelm. If we stopped to pay attention to every message we would go mad (and never get anything done). To get attention of any kind you have to have a very compelling argument, and keep repeating it.
---
EVERYBODY IS TIME POOR
How many times have you committed to something but life just got in the way? The secret to getting cut through and turning a diary entry into an actual attendance is persuasion and multiple touch points from a variety of sources.
The days of spending 1-2 days visiting a trade show have long gone. People just don't have the time. Instead, they do their research to find out who's exhibiting and create a "must see" list to ensure they do not miss anybody. After targeting their "must see" stands they systematically go up and down the aisles looking for what's new.
Visitors are walking by at 6km/hr looking left and right so the message has to grab the visitor's attention. Do a test next time you are in a shopping centre and see if you can remember what was on display in a typical shop front while walking past. You have only seconds to make someone want to stop.
It used to be quite common to reward staff for good service with an exhibition outing. These days it usually only happens when a business is looking for a competitive edge or if there is a conference attached that includes required learning or CPD points.
29% of visitors to a trade show do not see reps. Ever. *
In some industries it could be aid that while visitor numbers have gone down, the quality has improved.
Exhibitions aren't changing. The way we connect with our audience has.
Face-to-face is king and there is no substitute. No amount of phone calls, internet research or webinars can ever replace the connection one human makes with another human when they shake hands and build trust.
I'm not saying other methods don't work. Just that exhibition's are unique in that you can start new relationships while building on existing ones.
---
DO THE MATH
Total cost of the show divided by the number of hours it's open by the number of people in the stand. You will get a greater understanding of the cost of a chat. Arrange to meet after the show closes, or organise a social event etc.
85% of an exhibitor's success is dependent upon the exhibit staff*
It's less about selling and more about helping. In an attempt to be savvy, many people end up very transactional. Or they go the other way and spend far too much time talking to one person. We need to re-introduce the human factor.
To make sure you don't miss opportunities it's important to implement staff training specific to exhibitions. It goes deeper than don't sit, don't talk to each other, don't eat or answer your phone/emails.
---
IF YOU FAIL TO PLAN,
YOU PLAN TO FAIL
Set KPI's and make everybody aware of them. Track them, break them down into individual goals and monitor your progress on an hourly basis so you can change your course if necessary.
In a post show wrap up we had with a dental client they said that:
of the 10 things you recommended we do, we only managed 2, but the KPI competition we set up for our staff was such a success we made an outstanding 250% return on investment!
If your exhibit team are going to operate effectively as humans on the stand, they need to focus on being real. Lead tracking systems that are overly complicated will take away from the overall visitor experience and make them feel like a "lead" rather than a human. There are a number of options available and picking the right one can make a big difference.
---
IT PAYS TO ASK FOR THE ORDER
Your business is not "different".
A client of ours recently wrote $7M directly on their stand and their biggest mistake was not having an A4 printer on the stand so we could print out sales contracts!
EFFECTIVENESS RATINGS FOR MARKETING TACTICS
According to a study by MarketingProfs and Content Marketing Institute, of all the marketing mediums face-to-face events are ranked as the most effective marketing medium. The more things change, the more they stay the same.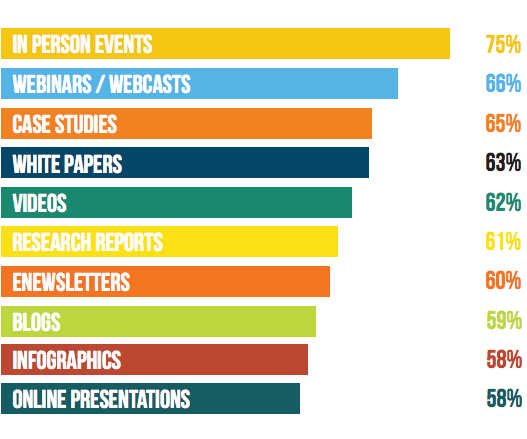 ---
GET ON THEIR "MUST SEE" LIST
Pre-during-post Show marketing is an integral of getting prospects to put the event into their diary. The organiser's do a good job but with the message overload these you must do more to invite everyone you know. Customer or not!
Thinking outside the box and getting creative works really well here. What will entice people to come and see you? Forget a show special or just inviting them to stand number XYZ. It needs to be compelling. It needs to be repeated. Use CRM software that tracks interactions.
---
THE MOST IMPORTANT ELEMENT OF ANY TRADE SHOW STRATEGY
What you want a visitor to walk away knowing about the company, product or service?
Your key message is the most powerful element to any exhibit campaign and it deserves to have adequate time spent on it. It's often not what you think it is and most business's benefit from having a third party involved in the developing the concept.
A medical client of ours implemented this and scored 300% more leads than any other trade show they have ever attended.
Divide your staff into 3 teams based on their strengths:
• Hunter Gathers
• Talkers
• Management
---
CHATS AREN'T CHEAP
While it is nice to be able to talk to someone you know whether they're a friend, current customer or a supplier it can be a very expensive chat. You are there to either obtain leads or move somebody along in the lead funnel.
Teach your team about how to interpret visitor types, manage people on the show floor and improve the overall experience.
If you talk to a visitor for 6mins you can only talk to 10 people per hour. Without breaks or distractions! This isn't great.
56% of what attendees remember is not the message on the stand, the gimmick, new product or the giveaway. It's the quality of their interaction with the staff **
---
A $6M MISTAKE
True story – A customer once showed up at a trade show wanting to discuss some problems they'd experienced. The staff on the stand were talking amongst themselves and left this customer unattended.
He didn't just leave the stand frustrated, he also took his business elsewhere which cost the business $6M in a lost revenue over the 3 years it took them to win the client back. Moral of this story – You never know who is standing in front of you so treat everyone with respect.
Teach your team about how to interpret visitor types, manage people on the show floor and improve the overall experience.
---
HOLD UP! NONE OF THE ABOVE MENTION THE STAND DESIGN?
A lot happens before we even embark on your initial exhibit design. It's not that we want to create drag out the planning process. It's just that you can't get the most from your design if it doesn't link back to your objectives.
Working backwards, works!
Most people start with what they want on their exhibit. Instead, we like to ask our clients what they want out of an exhibit.
Approaching design in this way means you aren't figuring out how to adapt around counters, bar stools and TV monitors. Instead every element is purposeful. Consider the customer journey and incorporate structural elements to help support you on your own individual mission.
The design is important, but so is the construction method you choose. Each have their advantages and it's worthwhile considering the number of shows you currently do, the stand sizes and what is on your master wish list for the coming years.
WANT TO IMPROVE ROI AND GET MORE STAND TRAFFIC?
If you know someone who might benefit from this information, feel free to share this page.
References: *CIER, **Exhibit Surveys, 1 SuperProfile 
WE BELIEVE AMAZING EXPERIENCES SHOULD ALSO GET RESULTS