Australian trade shows are back, baby! Some people are still approaching their planning with caution but you better believe they're happening. As confidence increases and the events start taking place there are some important points to consider when preparing for your upcoming exhibition. If you want to maximise your results in the current climate, read on.
Confidence is increasing across the board and everything appears to be returning to normal, however, we are in new territory. You can't just show up and expect to have a great show. It's more important than ever for to bring home amazing trade show results and you will definitely need a plan!
Sorry to point out the obvious but we have all been locked away and forced to sit behind computers for so long that we are starved of human contact. Most people we speak with are throwing themselves at the opportunity to attend exhibitions and conferences again.
"It has been scientifically proven that humans are wired for connection".
Everyone is resource poor right now, whether your budget is tight or your staff numbers are low. When we apply this to exhibits, we can already feel deliverability of exhibition stands across the industry is impacted. This is not only due to material shortages, accompanied by increased costs, but also manpower. There are just less people to get the work done.
From a show floor perspective, we may find that companies don't bring their entire team to the show and attendee numbers may be lower than in previous years.
But, rejoice!! This is by no means doom and gloom!
In 2021, we experienced a brief window where we helped 18 lucky teams exhibit. They all reported back similar success stories despite lower attendance numbers. The people attending were decision makers and they got to spend much more time being of value to them, resulting in great ROI.
In fact, one of our clients had their best show of all time.  (Yes, in the middle of the pandemic).
Trade shows have always had an advantage over other types of marketing channels because you are face-to-face creating an experience with your audience. Us Aussie's like to eyeball who we do business with and after such a long hiatus, we are pretty bloody stoked to be back.
Here are a few ways you can put your best foot forward in the current climate:
Have a compelling key message
With less people at the show you can really hone in on your key message so it speaks directly to your target audience. With potentially less staff on your booth this is also important so everyone who looks at your exhibit and knows exactly why they should stop.
Create hype
Give your target audience a compelling reason to take time out of their day and make the show a "must-see". Create excitement by really backing your attendance. The organisers work hard to get people to the show, but it's up to you to get people to your stand.
Spread the word with pre-show marketing and get your sales team to personally invite people. Always be crystal clear on what benefit they will get for visiting your stand.
Create an experience
Now more than ever, you want to look for ways to make your interaction personal. Booking meetings on stand is a great way to make customers feel valued, but you could also have a stand activity that let's your audience have a little fun.
The result will be much more meaningful if you explore the different customer types you expect at the show and map out experiences that suit each.
My friends in Vegas, Steelhead Productions, really drilled home to me the importance of engaging the five senses. I remember the very first stand I saw of theirs; it was a peanut butter and jelly sandwich station that really drove home the nostalgia. Their promotional material that went alongside the stand screamed fun! It included a tin lunch box, a wooden knife and sandwich wrapper to store your creation.
Treating all the senses (see, smell, taste, hear, feel) to an experience can be incredibly powerful when you tie it back to your message. I think of their brand every time I share peanut butter toast with my little girl!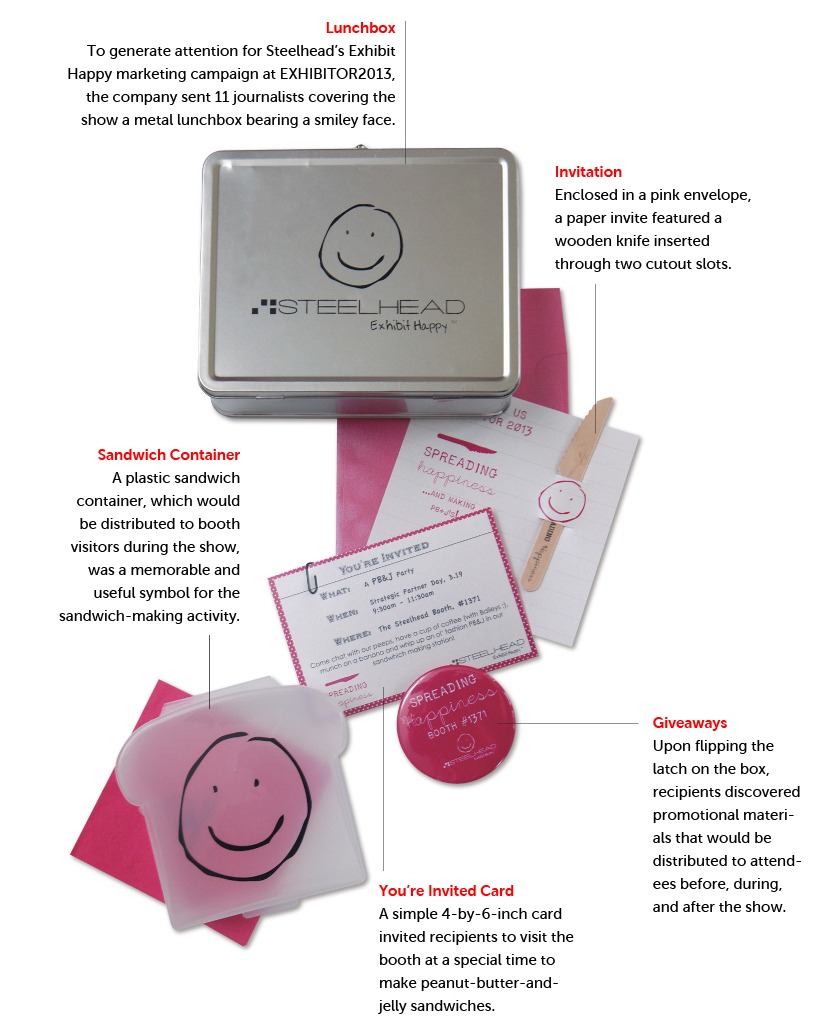 KPI's
Knowing what you want to achieve is kind of the whole point. (Sorry to be blunt, but this really irks me. You're not alone if you don't have this but do it). Decide what you want to get out of the show and how you will track your efforts.
If possible find ways to streamline your data so it doesn't interfere with your interactions on the stand. Our sister company, mytouchCreative, has produced some incredible digital interactives that have helped track the behaviours of visitors and collect data in the background. The reason they work so well is because they personalise the experience for the visitor, are branded beautifully and help move people to your end goal in a fun way.
Staff training
Regardless of what activities you do on your stand, don't underestimate the power of skilling up your team with training specific to trade shows. When we work with teams on this, one of the biggest changes we make is creating a plan for how the team will work together on the booth. This overlaps with the customer journey's mapped out earlier so everyone know how to treat each visitor that arrives on your booth.
Hot Tip: Be sure to look at your design in relation to the flow of the show and have a plan for how to best use the space so there are no blockages preventing people from accessing your stand.
It also pays to workshop how you could treat your customers like VIP's. This is beyond the basics of staff training but setting expectations for how every person can leave your stand feeling appreciated and understood. If you're serious about getting the most out of your team, reach out for some professional guidance.
Above all else, remind your team they are there to have fun! There's a strong sense of comradery on the show floor right now. Everyone in attendance feels privileged to be back at these events. Embrace the joy and excitement!
There are mixed feelings from many we speak to as Australia returns to shows. Some companies are treading with caution while others are returning with gusto.
Putting aside the understandable risk of shows potentially being cancelled, most of us are now confident that we will see out a year of trade events with minimal disruption (everything crossed). One this is certain – it will be a year like no other!
If you are thinking of holding off until the last minute to brief your supplier, do everyone (especially yourself) an enormous favour and talk to them/us (wink) earlier than you ordinarily would have. Where you would normally allow 3 months, give yourself 5-6 months.
Your strategy needs to adapt if you want to maximise this new opportunity and we would love to help you prepare for your exhibit strategy so you get gangbuster results in the current climate.
Yours in Exhibiting,
Jess
Want to have a quick chat? Book a call with me here.