When it's time to update your exhibit, it's natural to want to
Each year when a show calendar is about to kick off, we find ourselves speaking to a hoard o about how they can up the ante in the New Year. To most, a trade booth is a static environment, but all of the exhibit trends for 2016 are big on engagement. With new technologies and concepts coming out around the world we wanted to summarise the top few to consider when planning your 2016 exhibition calendar.
UX (User Experience)
Arguably the buzz word of 2015. (With good reason!) Taking a fresh look at how your customer views you is something you need to do periodically.
As the world becomes more interconnected, the speed at which things change is much faster. This is also true for customer expectations. The reason we have classified this as an exhibit trend is because it's those who make an effort in this department that will be singing praises of exhibitions. People are fed up with being sold to and the best way to get through to them is by encouraging interactions. I still believe everything needs to be linked back to your brand and messaging, but something is better than nothing.
On the tech front we see some of the same, with improvements, and some new exciting concepts.
Apps
The constant challenge with apps for events is in first convincing people to download the app before the show and then keeping it on their phones. It needs to be a resource of sorts that they return back to instead of deleting when they forget what they are for.
We have already seen a rise in apps as they become more common, but slowly we are seeing the delivery of some incredible apps that become a resource for the user to return to. (Look at Flipboard, which customizes content that is of interest to you).
An app is a gateway to introduce additional technology to enhance both the customer experience and the data you get back. My friend, Logan Merrick, of Buzinga App Development, is a powerhouse of information. He tells me;  "Apps are absolutely exploding and are a hugely powerful experiential marketing tool when used appropriately. If you can understand where your customers are coming from, how they flow through your application and where they are getting stuck, you can optimize processes and build a tech product that interweaves e-commerce, beacon technology, tracking features and more to drive big revenue and customer satisfaction."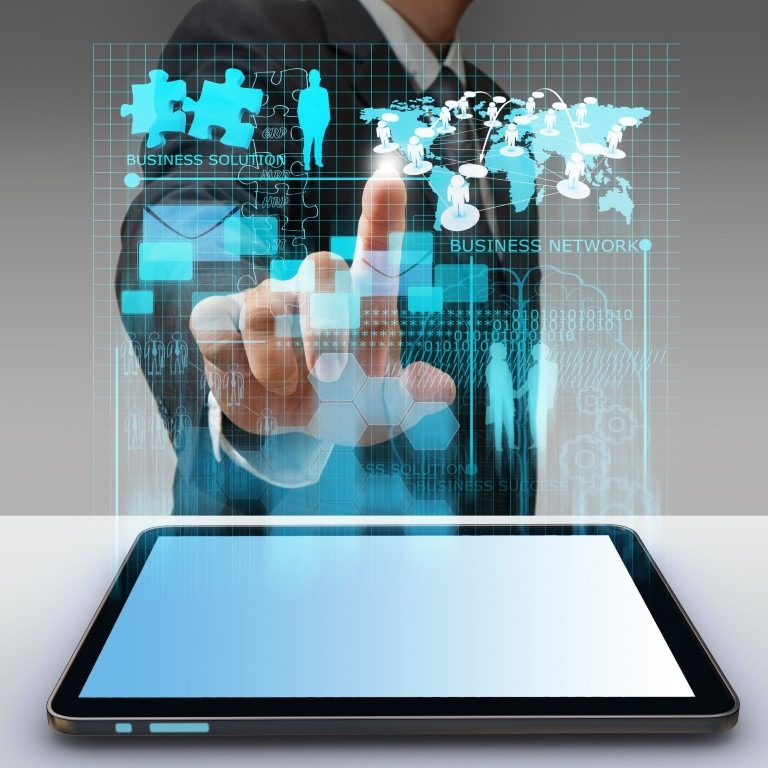 Touch Screens
Just because you have a touch screen setup it doesn't mean you are at the forefront of technology. The future for interactive technology is about creating experiences that are enjoyable, but also collect data. This is especially true in an exhibition environment.
Data analysis isn't new. Every business uses data to figure out what to stop doing, what to do more of and what opportunities are on the horizon. Already we are seeing an uptake of people using their interactive platforms as a means to collect information about their customers.
With more emphasis being placed on customer experience I see a call for including more brand awareness and engagement among the usual measurements people return from a show with. Aside from helping determine what strategies are working it will also go a long way to keeping the haters in check (You know the people I'm talking about – the ones who think exhibitions are dying and expect better results by doing the same thing).
From tablets and table-top kiosks to huge multi-touch walls, we are already talking to a lot more people who are seeing the benefit of this technology. There will be a lot more of it in 2016 – thankfully no more "make the picture bigger, pinch the picture smaller" but more engaging pieces that are playful or educational.
iBeacon
One of the app's party tricks. This neat little gadget will know when someone is in proximity of the stand, tracking the data or sending a push notification. As with everything, it has limitations but can be a handy tool to encourage engagement at an event.
Send them an interactive map to follow straight to you at an event or include a personal greeting on a screen as they approach. There are a number of ways to play with this and work it into your marketing strategy. Already huge in the USA, this exhibit trend is one that we will be seeing more of.
Digital Signage
This is a big one we will definitely see more of. A TV is easy to walk past, to make people stop it needs to display something that piques their interest. How you display is just as important as what you display.
Video walls and informal splatter walls will be replacing the standard 42". With software to control various behaviours and formats there is no excuse to be boring. Ever tried walking past Harvey Norman and not look at all those repeating images? Told you it works!

Facial recognition
Data has been a buzz word in 2014 but now it's just becoming part of business. Analysing metrics allows you to react to changes and the needs of your customers before they even know about it themselves. Facial recognition is starting to pop up in a few places (Mastercard phone payments, Microsoft secure access) but I see a huge benefit to having this technology as part of someone's digital signage setup at an event or showroom.
We can now gauge if someone is engaged with the content we display. Creepy much? Maybe. Useful? Definitely! If they stop reading, the next topic is displayed, if they keep reading it shows more information. Next time it see's that same face it continues right where they left off. Showing the next instalment or further developments on the topic that interested them most.
Personalisation of content is a huge area to capitalise on and is already being used across other platforms (Facebook, LinkedIn etc) so this just seems like a natural progression.
AR (Augmented reality) and VR (Virtual Reality)
Both are brilliant for immersive experiences that can really showcase your world to the customer. A reasonable price difference between the two, but something we will definitely see more of.
AR works by pointing your phone (with an app downloaded) at a trigger to see what the creator wishes. The trigger might be a logo or a picture and the creation could be anything. I've seen videos and 3D representations of objects or buildings. It's a particularly good tool for sharing after an event with people who couldn't make it because they only need their phone and the trigger to make it work, which is why it will be a popular exhibit trend in the future.
VR is the more immersive of the two as the users vision is blocked by goggles and if they are standing you want to make sure they are in a safe area so they don't trip or stumble. A lot more work goes into creating VR than AR and it reflects in the price.
Mindset
Yes, I know. This isn't a tech thing, but we have included it because it's the driving force behind all change. The end of the year marks a time for reflection and rather than only focusing on the bottom line this is a key category.
Too many people bogged down in "the way things are done" that they stop thinking and it's what's holding them back. The opportunity here is to reassess how you do things and why.
Jason Clare wrote a sobering article for Business Insider that explores some of the ways Australia has been (and still is) falling behind the globe. He rightly points out that "we send a billion fewer letters today than we did 5 years ago. Australia post has to change its business model or it will go the way of Kodak and the dinosaur"… "Half the companies on the US Fortune 500 list have disappeared in the last 15 years. Most because of this – a sort of digital Darwinism. Companies have to adapt and respond or they die."
I would like to add that this is also wildly true for the exhibition world. As consumers we all happily embrace the tech abundance available to us, but there are a raft of businesses in the exhibition and conference space that hide behind complacency. This group aren't seeing the world for what it really is. Changed.
The ones that don't change will see business go to those who do. They will start thinking shows have stopped working for them when really they are simply being overtaken by the competition who are actively embracing the new ways.
The good news is that the audience hasn't really changed. Only their expectations have. If we learn to speak the new language society has come to expect, we will be more current in the eyes of our customers. The rest will be lost in translation.
People don't just compare you to your competitor anymore. They are also comparing the service they receive from every other business they have dealings with. You may not be in the same field or even remotely associated, but like it or not they will be comparing you to the likes of Apple, the restaurant they frequent, the Virgin empire…
Don't be too disheartened. In a world where people are bombarded with messages it's only natural to filter them and pay attention to those with cut through. Above all, this is a priority we stress with our clients. The potential for a positive result largely depends on how they translate your message, making the delivery all the more important.
If you would like to have a chat about how we can help you with your trade booths this year, feel free to reach out and I'll arrange a time to call you back.